Script Fly Testimonials
"I want to thank you for the order and the e-mail confirmation. I received all three boxes and was very impressed by your company's ability to get them to me so quickly--especially the older scripts which are all perfectly legible. Thanks and I'll be in touch with another order."
---David K. (MN)
---
"Thanks for all you do!" --Kathy S. (LA)
---
"I don't know what I'd do without you guys! It is my please to be loyal to you--I have told you before and will continue to tell you how grateful I am that you have made screenplays available for people like me to read and benefit from. So thank you again! --Barry S. (MI)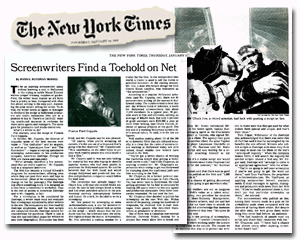 Read the write up about us with Francis Ford Coppola in The New York Times article about screenwriters posting specs on the web.
Page 1 | Page 2

[WritersWebsite is now Script Fly]

---
"All four scripts arrived today. I have never seen such lightning-fast, courteous, and concerned customer service. Just wanted to send you a BIG thanks." --John D (Charleston, SC)
---
"I was very pleased with my purchase--both the product and the quick shipping. I have used ScriptFLY before and would glady buy from you again. You were the only script site that I could find that had the title I was looking for, and your site worked perfectly." --Chris R.
---
"I found out about your company from my son who found out from the coaches at his speech & debate camp (i.e. Forensics Institute) @ the Univ. of Texas this summer. I do plan on ordering from your company b/c these scripts are great to have and to give as gifts. Also, your customer service was excellent. Thank you." --David A.
---
"The script arrived quickly and in great condition! The transaction was smooth; I will be using your service again and have already passed along your site to some other pals. Thanks! Appreciate your service."--Sydney B.
---
"Thank you so much! I enjoyed your website and service!"
--Jemi J.
---
"Hi, heard about you on the internet, found what I needed and got it quickly; everything worked beautifully. Thank you for your help."--Deborah W.
---
"Hi, Re: The Yards.Just to let you know the script arrived today and is just what I was after. Thanks."
All the best,Laurence M.
---
"Thanks again for the personal call. It was very kind of you and one of the things that'll keep me coming back to script fly."
Michael W.
---
We all like to think that our work is worthy of consideration. And yet sometimes the hardest thing is just getting someone in the industry to read it. Writerswebsite got our screenplay read. Thanks for the opportunity.
John Calu
---
Yes I've had 3 bites at a log line left here. One was very serious, one just a junk enquiry and one semi-serious. This is a great service you offer. Power to you all!!!
Luke O'Neill
---
The Writers Website has been a tremendously valuable tool for me as far as getting the necessary exposure for my material. Having had several inquiries from producers and independent filmmakers, I can certainly attest to its effectiveness. I highly recommend this site to all aspiring screenwriters.
Ben Fiore
(screenwriter/actor)
---
Yes. Since listing my synopsis on Writer's Website, I have been contacted by two producers. I had a script optioned for a year. Nothing has happened as of yet but I'm hopeful. I think the site is great and can't think of any improvement for it right now. All I can think to add is I hope more producers and directors will learn about the site and make use of it. It's the first site I've listed on that ever produced any actual results for me. Keep up the good work and thanks for the support.
Sincerely,
Evelyn Khelama

---
We just got back from the first run of auditions for "The Psychic". I was able to watch as each of my characters were brought to life by an astonishingly talented group of actors, a truly remarkable experience! I signed the contract (I promised to keep the amount confidential) and received the first payment. Production preparations begin immediately and the project starts shooting toward the end of January.

None of this would have happened if I hadn't put my script summary on your website. The response to "The Psychic" took about a month to begin and stopped only when I asked to have the summary removed after it had sold. I received several inquiries including one from the producer that picked up the option. Since Psychic, I have placed three other outlines on your website and have received responses on all of them. One of the more interesting ones is from England which may require me to travel to London to discuss the script and its treatment.

Thank you for your website. It really works! Best of luck with your writing career. I will keep you posted if anything else develops with my stories.

Chuck Ivie,
Writer

---
I went to your site to see what you had to offer, and quite frankly, I am impressed by the quality of submissions I see there. Thanks for helping to make the web a darn site better.

Sincerely Yours,
Earl H. Roberts
Tale Wins Literary Agency
---
There is no doubt that your site is a great forum for producers to find new writers.

Dan Fried
President,
Daniel Fried Productions
---
...I just wanna say that I am SO glad that I've signed up with your mailing list. You guys are doin' one helluva terrific job out there.

As a writer, I often get holed up and come to feel disconnected. You guys are giving me a chance to stay connected & informed. I am finding out stuff that I had no access to before.

And -- wow! -- I just really appreciate you guys...
Thanks a million!

Carl Becker
A Real Thankful Guy